Individual Russian classes in Moscow - language center of Russian studies
Individual class is an ideal option for someone who has a very busy schedule and needs personal approach to his/her teaching. 
The teacher will define your level after evaluation test and will propose to you an individual program taking into account not only your level but also your personal and professional needs, language abilities and interests.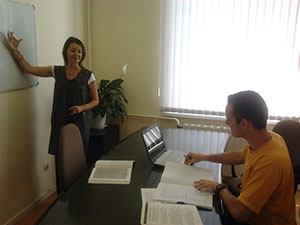 Apart from traditional elements of the class such as grammar part, reading, speaking, listening and writing individual class may include some cross cultural aspects, history of words and comparison of structures of languages if you are interested. We can also work on some business orientated vocabulary from the very first classes. Therefore conversation remains the main target of an individual class. 
Individual class permits also to adapt teaching methods to you personally to make the teaching as efficient as possible. 
Lots of very busy people aimed to learn Russian quickly efficiently and with pleasure have already chosen this type of classes. You are welcome to join us !